Let Us Repair Your Hail Damaged Car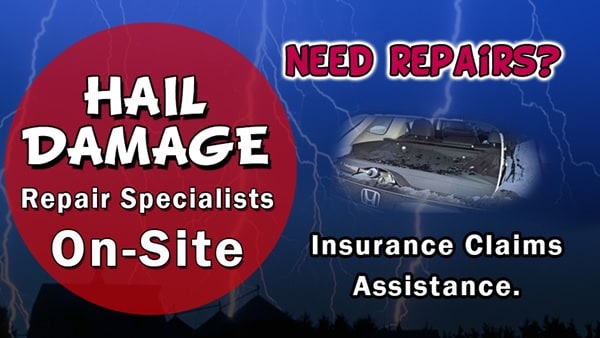 What is Paintless Dent Repair?
Paintless dent repair, sometimes called PDR, repairs hail and other surface dents without the lengthy downtime of repainting a vehicle.
Hail Damage Insurance Claims Assistance.
Most insurances cover car hail damage, and we not only work directly with you but also with your individual insurance company expediting the entire process.
We Will Also Buy Your Hail-Damaged Car As-Is!

How is Auto Hail Damage Removed?
For auto hail repair, we use the paintless dent repair method. With the use of specialized tools, we can get behind your vehicles panels to push away the dents. Auto hail repair often requires the use of a dent removal tool that uses a gentle adhesive tab to pull the dent from the panels topside.  By using a combination of these auto hail removal techniques, our master paintless dent repair technician team is able to restore the vehicle to its pre-damaged state.
FILE A CLAIM.  Contact your insurance company to file a claim. You will get a claim number.
AUTO HAIL DAMAGE INSPECTION. An insurance adjuster will inspect the vehicle and give you a claim report.
SCHEDULE AUTO HAIL REPAIRS. Give us a call at 1-(855) 429-2623 to schedule repairs.
FINAL INSPECTION. A final inspection done by your insurance adjuster to determine the final value is done at our shop. We take out all the guesswork in estimation by marking every dent on your car for the adjuster to count.
REPAIRS. A repair and install team will remove interior panels to prep for paintless dent repair. Once the car is ready a PDR technician will use specialized process and tools to gently massage the dents out from the inside panels of the car. After all panels have been fixed the repair and install team will re-assemble the panels. At this point quality control will inspect and wash the vehicle.
DELIVERY. After 3 to 5 business days, your vehicle will be returned in pre-damaged condition with a written lifetime warranty.

LIFETIME WARRANTY. A lifetime repair warranty guaranteeing 100% customer satisfaction on performed repairs.
Call (855) 429-2623 to schedule repairs.
Hours
Monday

9:00AM - 8:00PM

Tuesday

9:00AM - 8:00PM

Wednesday

9:00AM - 8:00PM

Thursday

9:00AM - 8:00PM

Friday

9:00AM - 8:00PM

Saturday

9:00AM - 8:00PM

Sunday

Closed