Bring Joy to Children Less Fortunate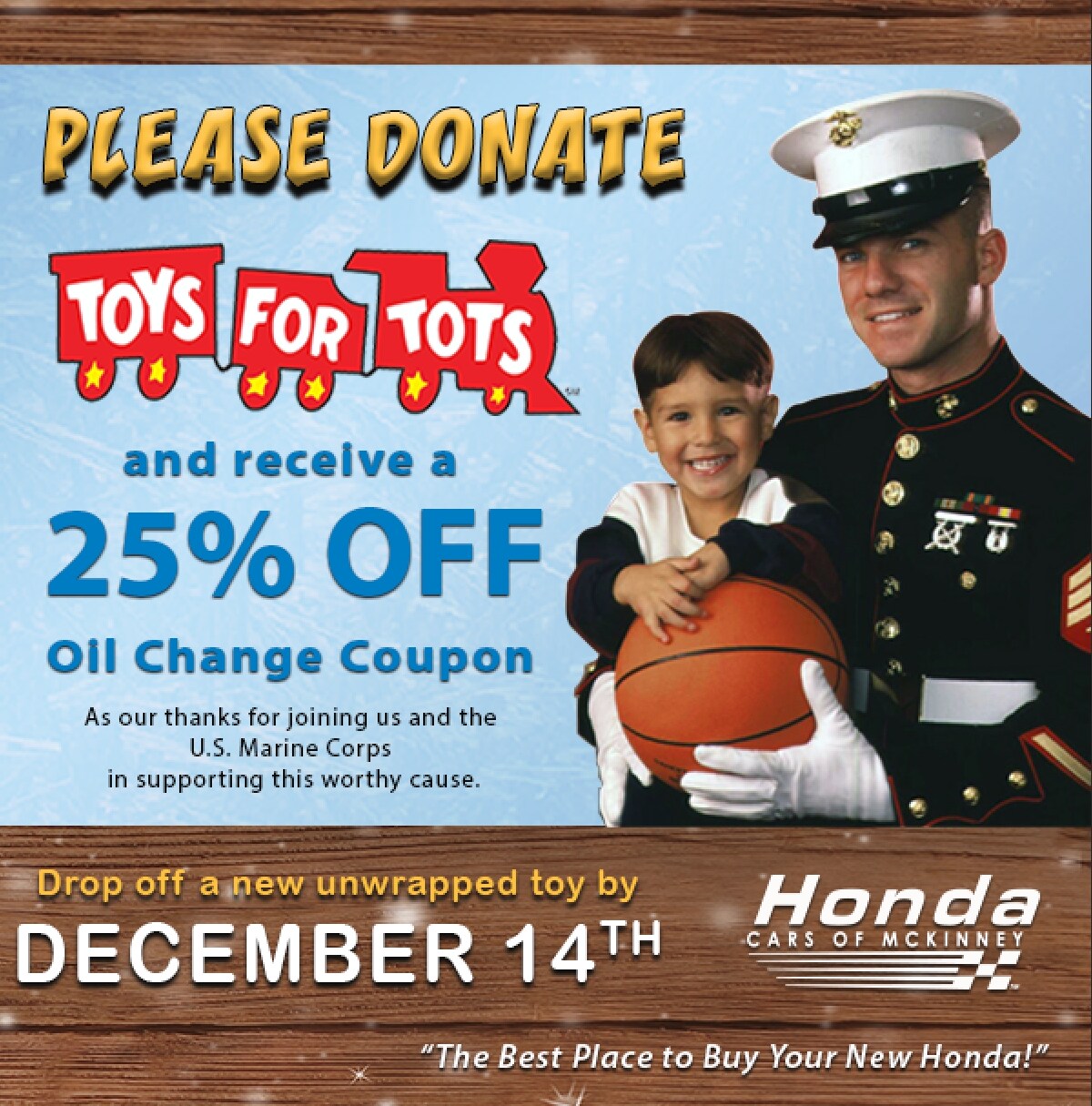 Honda Cars of McKinney is proud to join the U. S Marine Corps Reserve to help the
Toys for Tots Foundation collect toys for children who are less fortunate.

 As some families struggle to bring joy to their children during Christmas, the Toys for Tots program asks for your help in collecting toys to be redistributed to these families.  The goal for
Honda Cars of McKinney
is to support this program by filling up a vehicle on our showroom floor with new unwrapped toys.  Anyone can stop by our dealership and donate any new toy, large or small.  The key is to make this an enjoyable Christmas for as many Children in our local community as possible.
Please join us and the Marine Corps Reserve in supporting Toys for Tots by donating any new unwrapped toy to our dealership at 601 S. Central Expressway from November 13th through December 14th, 2019.

And, as our thanks for joining us and the U.S. Marine Corps in supporting this worthy cause, with the donation of a new unwrapped toy we will give you a 25% Off Oil Change coupon.
*Coupons will be located at the Reception Desk near the donation boxes, please see the Receptionist upon arrival with donation.

The Marine Toys for Tots Foundation, an IRS recognized 51(c) (3) tax exempt not for profit charity, is the authorized fund raising and support organization for the U.S. Marine Corps Reserve Toys for Tots Program.  The mission of the Foundation is to provide a tangible sign of hope to economically disadvantaged children during Christmas.  While the Marines coordinate and manage the program, the Foundation's success depends on the support of the local community and the generosity of people who donate toys, and that's why we at Honda Cars of McKinney have joined this cause.
Honda Cars of McKinney appreciates your support of this very worthwhile charity.
FOR MORE INFORMATION, CONTACT:
    Bill Neckar
    972-569-4236
    bill.neckar@hendrickauto.com